Healthcare interoperability
October 11, 2019 - Leila Zayed
In the healthcare industry, interoperability is the ability of different information systems and software applications to communicate and exchange data and use the information exchanged. The use of standards and data exchange models enables this information to be shared between healthcare providers, professionals, patients, hospitals, pharmacies, laboratories, etc. regardless of the application being used.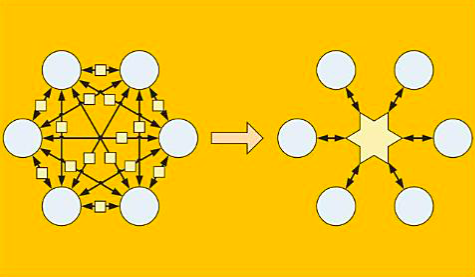 So what are the benefits of the healthcare interoperability?
1. Rises productivity and decreases expenses
The efficiency of medical staff can be pointedly delayed without an interoperable system. Research from Ponemon Institute revealed clinicians waste an average of more than 45 minutes each day due to the use of outdated communication technologies, costing U.S. hospitals more than $8.3 billion a year in total.
2. Improved public health data
Ideally speaking every healthcare organization would work in an interoperable with one another. Interoperable digital health technologies facilitate quicker, providing more accuracy in collection of public health data, which can be interpreted and used to improve patients lives.
3. Reduces errors
The integration of digital software and apps enables a better flow of information, which leads to improved efficiency and faster patient health outcomes. Interoperability also decreases the need for manual data input, which saves time, diminishes errors, and solves the issues that related to the poor handwriting . Therefore, as long as data is entered correctly at the beginning, organizations stand a higher chance of securely holding accurate PHI for its entire life cycle.
Klughammer GmbH provides an interoperable software called, Case.io which enables the physician to store and manage any type of patients information (Dicom, jpg, png, gif, etc), videos, MS Word, MS Excel, PDF files etc. All content on Case.io gets stored in a secure way.
For more info click here
Let's check out together the challenges of the healthcare interoperability
Technical barriers. "These limit interoperability through — for example — a lack of standards development, data quality, and patient and healthcare provider data matching."

Financial barriers. "These relate to the costs of developing, implementing and optimizing health IT to meet frequently changing requirements of healthcare programs," including lack of incentives for sharing information and need for business models for secondary uses of data.

Trust barriers. "Legal and business incentives to keep data from moving present challenges. Health information networks and their participants often treat individuals' electronic health information as an asset that can be restricted to obtain or maintain competitive advantage."

Administrative requirements. "Federal documentation and administrative requirements (including billing requirements) contribute to health IT burden due to outdated guidelines for evaluation and management codes that unnecessarily link payment to documentation."

Reporting requirements. "Federal reporting requirements in some cases add burden to healthcare providers by requiring them to report on quality measures that are not relevant or meaningful."

IT usability. "Health IT system design and usability barriers identified by stakeholders include … variations in the design [of user-interfaces] that make day-to-day use complicated when a healthcare provider uses multiple systems and the lack of developer engagement with end users of health IT regarding design needs."
Source: Beckershospitalreview